Populis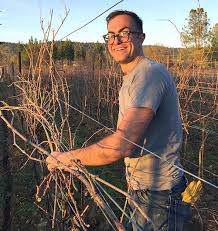 Shaunt Oungoulian and Diego Roig produce wines under two labels, Populis and Les Lunes Wine. With Populis, they purchase grapes from historic vineyards and multi-generational growers from Mendocino County. These wines are fresh, lively, forward with fruit, and made in a playful style. In addition to making wine, they farm and manage over 8 hectares of vineyards in Sonoma and Napa and are committed 100% to organic farming and restoring and preserving older and historic vineyards in those counties. Their Les Lunes Wines are made from both these vineyards and the top sites from their growers in Mendocino County. The Les Lunes Wines show the more classic, refined, elegant, and ageable side of natural wine.
Their facility is literally the basement of Shaunt's parents' house in Orinda, California just east of Berkeley. This allows them to produce wine without the interference of other wineries' yeasts or influences as well as allows them to age their wine for multiple vintages before release if needed. They are absolutely 100% committed to farming and producing wines organically. They make no additions to the wines save for a small dose of sulfur before bottling if needed, as determined on a barrel by barrel basis.
No current results found. We are adding inventory all the time so please check back soon.