Julien Pineau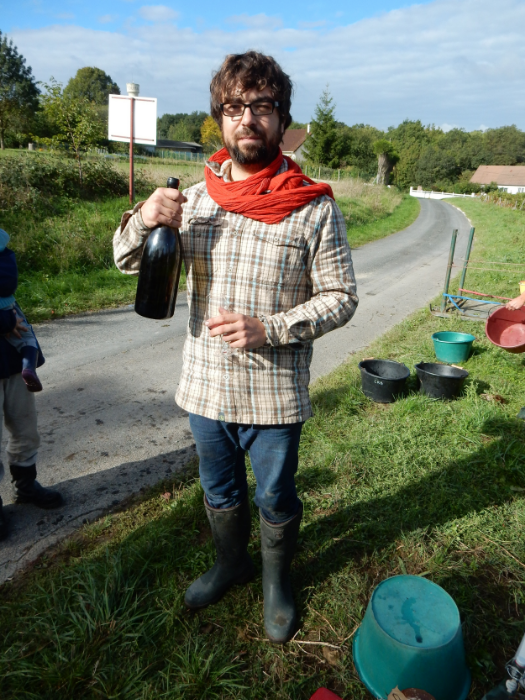 Clos Roche Blanche was one of the most important estates in the Loire Valley and an inspiration to young vignerons who followed their conversion to organic and biodynamic farming and more natural methods of winemaking. The estate was inherited by Catherine Roussel from her grandfather and managed by Catherine and Didier Barouillet until their retirement in 2014.
A succession was uncertain until Julien Pineau, who was already working at the estate, and Laurent Saillard, who was then working with Noella Morantin, were each able to purchase half the vines and begin making wine in 2015. Julien had become very interested in wine while doing harvest with Bertrand Jousset in Montlouis, then received a viticulture degree in Amboise and worked with Jean-Christophe Comor in Provence. Returning to the Loire, Julien worked a year at Clos Roche Blanche under Didier before purchasing his half of the estate - and though Catherine and Didier had retired, they both worked for Julien during the 2015 harvest! 
Surrounded by forest, the vineyards stretch out over gentle slopes, and are extremely pretty. Flowers are everywhere, birds, butterflies, bees, grasshoppers, all sorts of insects. Julien has planted fruit trees too. There is such a high regard for all life here - biodiversity is paramount, and nature is truly as it was intended. And although Julien is not certified, he still farms using biodynamic principles, working with other Vignerons in the area, using biodynamic preparations, and working with the cycles of the moon.
The soils are poor, and are made up of clay and silex, with limestone subsoils. Julien has Sauvignon Blanc, Côt, Cabernet Franc, Cabernet Sauvignon, Pineau d'Aunis and Gamay. And he has planted Menu Pineau too. The vines vary in age - Julien has some of the oldest Pineau d'Aunis in the Loire, and some of the Côt is up to 120 years old.
All grapes are harvested by hand, and kept in small containers, so as not to cause unnecessary damage. Pressing takes place above ground in a large shed, but the vats and barrels are all underground, with the wine traveling via hose through the rock to the vessels below. Fermentation occurs in stainless steel and fiberglass and the wines either see no oak, or very old barrels of various sizes. As of 2016, all the wines have zero sulfur.