Hervé Villemade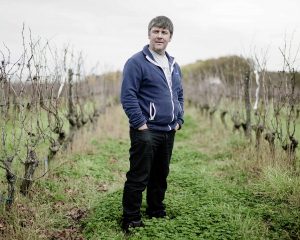 Hervé Villemade has family roots in Cellettes, a small town in the Loire Valley of France, going back multiple generations. Since taking over in 1995, he has grown his estate to include the original 8.5 hectares owned by his parents, an additional 8 hectares that he has purchased over the years, and the difference being comprised of parcels that he rents. At the beginning, the vines were farmed conventionally (as that is they way his parents farmed) using herbicides and fungicides, and the wines were made the same way with lab yeasts and additives.

It wasn't until a few years later that he tasted wines made by Marcel Lapierre in Beaujolais and Thierry Puzelat at Clos du Tue-Bouef in nearby Les Montils, both of whom he cites as his key influences to start doing things the natural way, that his eyes were opened. Hervé immediately began experimenting with zero-sulfur winemaking, but quickly realized that in order to do this, he would need higher quality fruit. This realization lead him to begin the arduous task of converting the entirely to organic farming starting in 2000 and ultimately shaping the domaine as we know it today.

All of Hervé's vines fall within the Cheverny and and Cour-Cheverny AOCs and are planted in a mix of clay and sandy soils with silex (flint) stones in many of the parcels and a limestone base. As mentioned, he farms organically (certified) and Herve does most of the vineyard work on his own. In the cellar Hervé works with native yeasts for all fermentations in élevage is done in a range of different vessels: concrete tank, foudre, tronconic vats, neutral barrique, and even amphora. Very little SO2 is used, if any, depending on the cuvée. Hervé makes a wide range of different cuvées, all of which are stunning examples of classic, natural wines of the region.
No current results found. We are adding inventory all the time so please check back soon.