Frenchtown Farms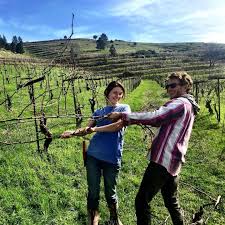 Aaron and Cara Mockrish live, farm, and grow wines in Oregon House, California, nestled in the North Yuba AVA of the Sierra Foothills. Both originally from the east coast, various life turns found them farming vegetables, sheep, and other things in Northern California where they met Gideon and Saron of Clos Saron. They fell in love with winegrowing and the Sarons took them under their wing, helping them produce their first small vintage in 2015 and teaching them how to work in the vineyard and stomp grapes.  Shortly after, they were able to secure access to a large portion of the Renaissance Vineyards, where they have been making natural wines since 2016.
Grapes are always whole cluster, foot-stomped, spontaneously fermented with no additions, subtractions or corrections. They use only old french oak and other neutral vessels. They use no sulfur during the life of the wines until bottling day, when they add a minimal amount of sulfur. The only chemical they use in the vineyard is an organic, elemental form of sulfur during the middle of the growing season.
Frenchtown Farms makes wines that are alive, slightly wild in the glass, and full of character.
No current results found. We are adding inventory all the time so please check back soon.