Azienda Agricola COS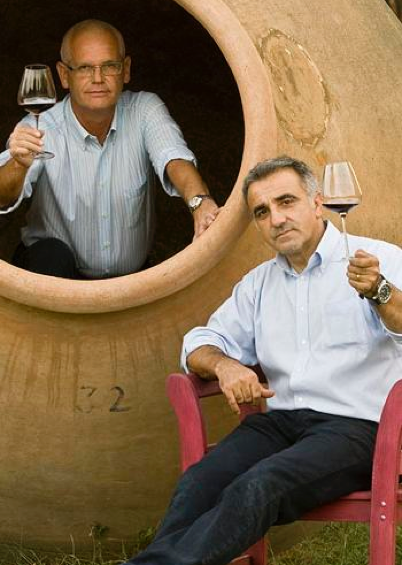 Founded by Giambattista Cilia, Cirino Strano and Giusto Occhipinti, Azienda Agricola COS (the initials of their last names form the winery's name) has been one of Italy's most forward-thinking wineries since its inception in 1980. The owners have helped to launch a renaissance in Sicilian fine wine, particularly in elevating the standing of the island's only DOCG wine, Cerasuolo di Vittoria. 
The winery itself dates back to the 1880's during a period in which there was huge demand for Sicilian wines. Phylloxera had already devastated many of the world's top wine growing regions but it had not yet reached the island. Sicily has a long history of winemaking, dating back to the 8th century BC when the Greeks first planted grapes in the eastern part of the Island. It is only more recently though that true top quality wines and winemaking have arrived there. It was through the hard work and dedication of producers such as COS who showed the potential of Sicily's terroir and drew attention to the island, especially its ability to produce complex, pure and fresh wines, despite its location at the very southern tip of Italy.
COS practices biodynamic farming and was certified organic in 2007. The owners use concrete tanks or clay amphorae--the oldest vessel for aging wine--for all of their wines. In many cases, the juice remains in contact with the skins for extended periods. Giusto feels these extended macerations help the wine obtain natural preservatives which in turn allows them do the aging and élévage with little or no added sulfur until the bottling (and then there is only a small addition). The wines are fresh, vibrant and beguiling, thanks in part to the soils in the Vittoria region which are blessed with limestone substrates under 1-2 feet of red clay.