Alessandro Viola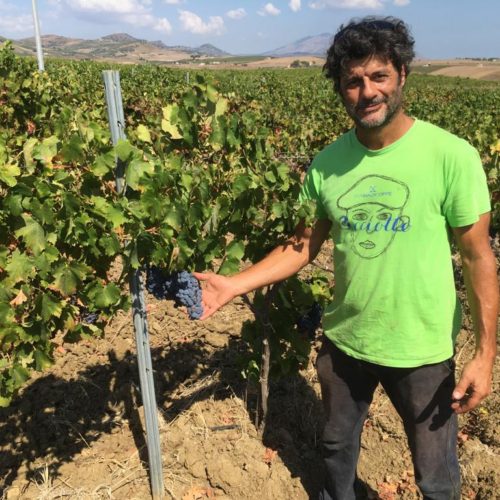 Alessandro Viola is a very small producer located in the northwest corner of Sicily, south of Palermo. 
Alessandro's father was a vine grower, although he bottled very little of the wine he made. Alessandro was fascinated in grape growing from an early age and after a few vintages of self-teaching he decided to get a formal education and study oenology. During his university studies he steered away from the mechanical side of winemaking he was being taught, instead focusng on the science. He strongly believed that  as long as the grapes, soil and winemaking were all working together, nothing needed to be added or taken away from the wine. After his university degree he worked in the north of Italy and then for a larger winemaker on Mt Etna, however he had never forgotten the wines he had made before, made by hand without anything added.
Eventually he started making wine for himself, initially with a friend, before branching out to make wines under his own name. Today, he cultivates 7 hectares of organically-farmed vines worked strictly by hand. The vineyards are located in 2 areas, the first in Pietra Rinosa close to Alcamo in the north-western tip of Sicily, where the soil is made of clay and the vineyards sit at 200m above sea level, taking a large influence from the ocean. The second asea is in Fastuchera, where the vineyards are higher, at 400 meters. The soil is calcareous, producing finer, more mineral-driven wines.
Alessandro is strictly committed to growing and championing local varieties, including Catarratto, Grillo, Nero D'avola and Nerello Mascalesse. His style is unique, and his commitment to organic and biodynamic practices with no additions is central to his winemaking philosophy.